THE MERIDIANS OF YOUR BODY
"One of my greatest wishes for you is that you will begin to understand the incredible power of your connection to Earth. It is your birthright."
- Ra Ma Danielle Marie
About Ra Ma
"I am an artist, astrologer, alchemical mentor, gridkeeper, sound healer, cosmic priestess and the creator of the podcast, Stars, Stones, and Stories. I call upon my study of Yogic Technology, Daoist Stone Medicine, and Astrological Divination to inform every single offering I create. In my practice I am most interested in the alchemy of Meditation, Mantra, Sound healing, Earth Medicine and our place within the Cosmos. I am dedicated to creating safe containers of connection for individuals to heal individually and in community."
The superhighways of energy and flow
"The gong works on the meridians of the body. The meridians of the body are the superhighways of energy and flow. This allows body blocks to soften, stimulates circulation, and reduces tension. The practice of Yogic Technology is based on opening the highways of energy to create more flow and greater vitality in the body. The gong stimulates the glandular system to a higher level of function. When our endocrine system is awakened and activated, the glands secret as Nature intended, we literally become healthier and more relaxed and therefore happier beings."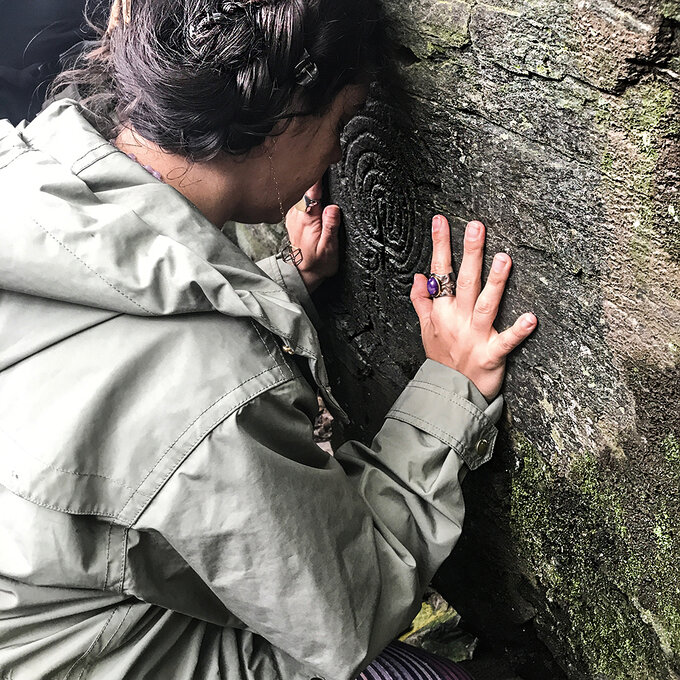 The earth is speaking to us
"I weave the connection of Priestess Arts for the Aquarian Age which include Yogic Technology, Daoist Stone Medicine and Astrological Divination into group work in direct communion with the Earth. I offer retreats and global pilgrimages where we explore what it means to merge these modalities - connecting our meridians, our ley lines with the Earth's. The Earth is speaking to each one of us through her magnetic pulses, her elements, her mountains, her sky, her bodies of water, her blood, her minerals, her vegetation, her rustles of the wind, her arteries and her meridians."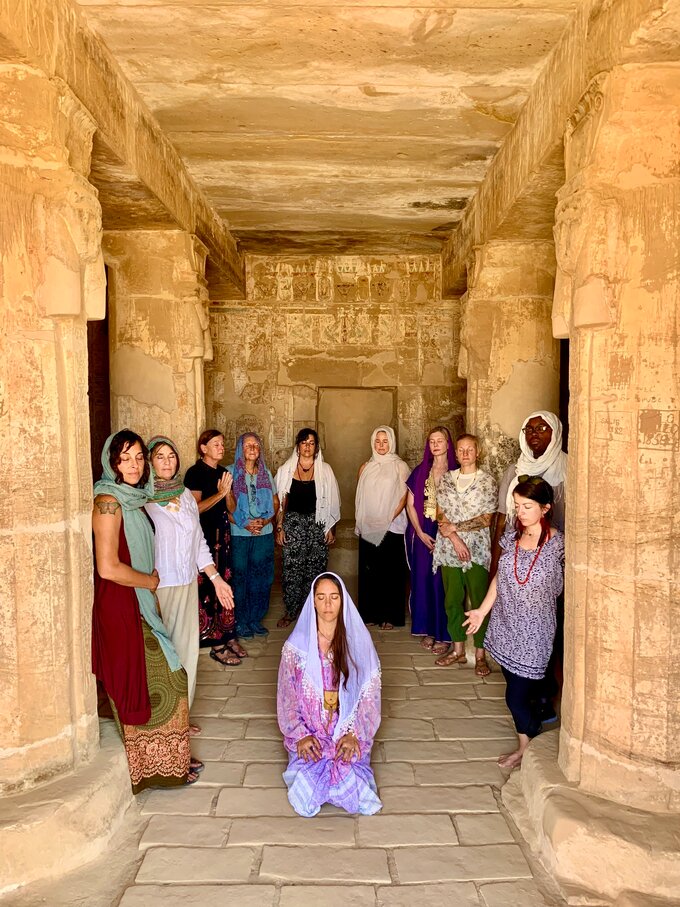 Playing the gong in a pyramids chamber
"Within each offering I blend this interstellar alchemy of starry wisdom, sound healing, and stone medicine through offerings that include workshops, private mentorship, healing sessions, astrological divination, Dark Moon gatherings, mother-daughter circles, ceremonies, retreats and global pilgrimages. My greatest passion is traveling to sacred sites in sacred art with people. I believe beautiful activations come through utilizing the healing reverberations of the gong. My favorite place on the planet is to play my gong in the King's Chamber of the Great Pyramid."
Instruments to awaken your senses