More than "Sounding Good"
FASCINATED BY MUSIC
I have been fascinated by music since my early childhood and have lived my dream of being a professional musician in both China and Australia. While performing over the years, I have always been searching for what makes me so passionate about listening to and playing music. I have always felt it must be more than just about being "HAOTING" (which means "sounds good" in Chinese).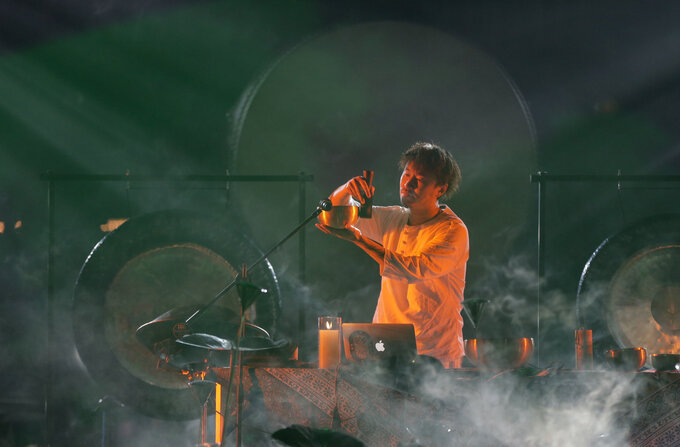 MAGIC EXISTS
For me, it was hard to find something that not only resonated with me but also made me happy...until I learned about sound healing in 2009. In the moment when higher-dimensional wisdom is opened and channeled in, through the pure natural beauty and resonance of sound frequencies, then, magic exists.
DARK YEARS
From my teens, I began performing as a musician in bars and clubs and with this lifestyle, I gradually became dependent on drinking and had an abusive relationship to towards alcohol. During these darker years, my mental condition deteriorated somewhat, and I was battling depression, inner confrontation and strife, and I was diagnosed with bipolar disorder at the end of 2008.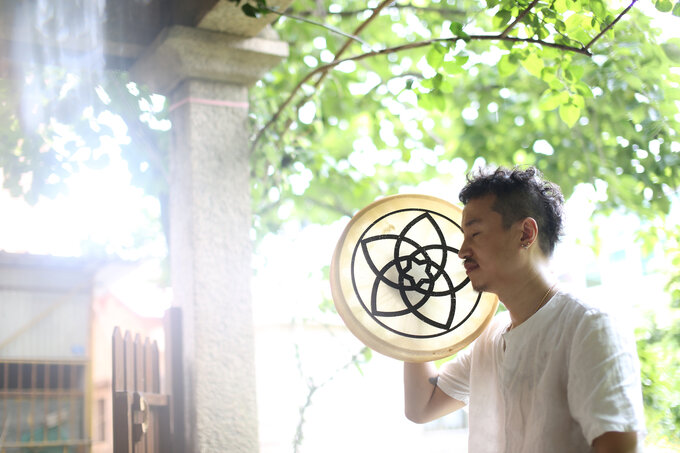 MY TURNING POINT IN LIFE
In this hard phase of my life, I fortunately accepted the advice of a psychological consultant and began to practice music meditation and mindfulness. Using these tools to assist me, I stepped on the path to recovery. I joined an alcoholic support group, expressed my renewed gratitude and love to my friends and family and through hard work and dedication, rose out of that swamp of my life.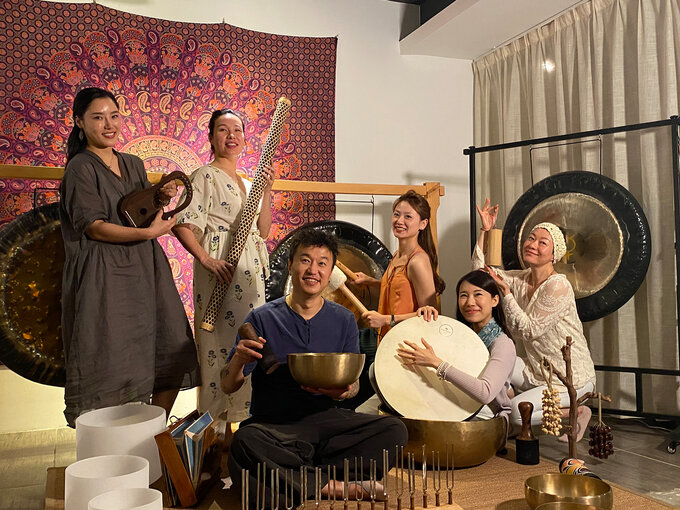 PROCESS OF DISCOVERY
After starting my new life, I began to volunteer at alcoholic support groups and helped others with their recovery. I also began to share my story and experiences online and used my experiences and lessons I learnt to inspire others. I traveled to Europe, India, and Nepal to study sound therapy and performance. During this process of learning and discovery, I deeply felt and realized that there are far too many people in our world who need help with their spiritual health and could benefit from healing.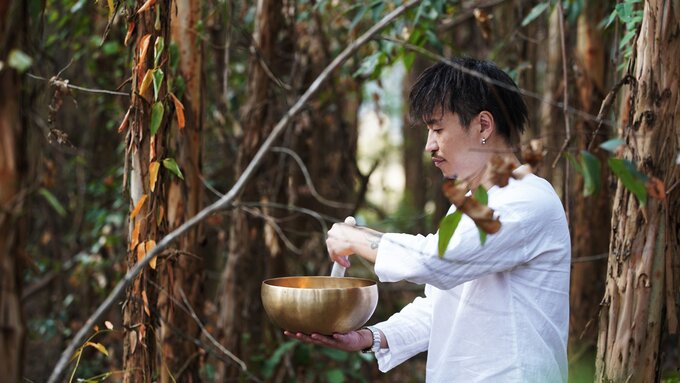 THE ART OF HEALING
The art of healing can be very emotional and fascinating. I began to do many sound therapy cases and subsequently wrote and published my first book about my story. Following this, I began to develop promotional and educational programs for sound healing in China.
Ever since studying psychology and an EAP (Employee Assistance Program), I have been striving to educate and inform enterprises and organizations about the art of sound therapy from the perspective of psychology and brain neuroscience.
Stress reduction, anxiety reduction and emotional conditioning, are just some of the many useful applications in which sound therapy is being used today and is producing fantastic results.
SOUND HEALING IS A SUCCESS
Sound healing sessions have become very popular and successful in China in the recent years. The newfound interest in this subject has created a rapidly growing industry where sound healers can work and grow in harmony with the Art.
I feel that this is just the beginning. I am looking forward to getting to know all of you. Let's resonate the world with love.
- Woodie Wu
Woodie's instrument recommendations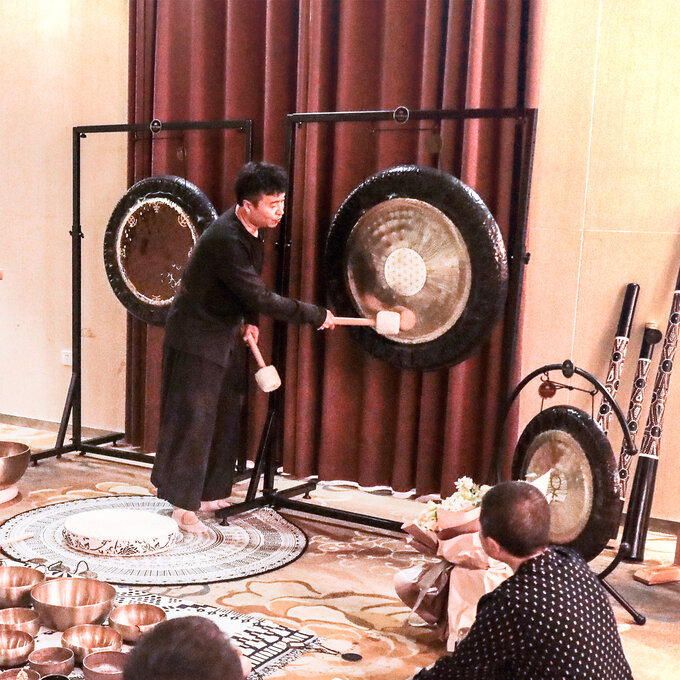 The Flower of Life Gong
This gong is my top recommendation! I have been using the 36" model on a daily basis for years now. In 2014, I delved into Sacred Geometry and became fascinated by the Flower of Life symbol and frequency. This pattern is considered to be the blueprint for creation in Sacred Geometry and is known for its mystical and repeating patterns found in nature and existence. The gong can aid in meditation and support healing in sound therapy sessions, and its strong vibrations from the gong further enhance the unique energy of this frequency.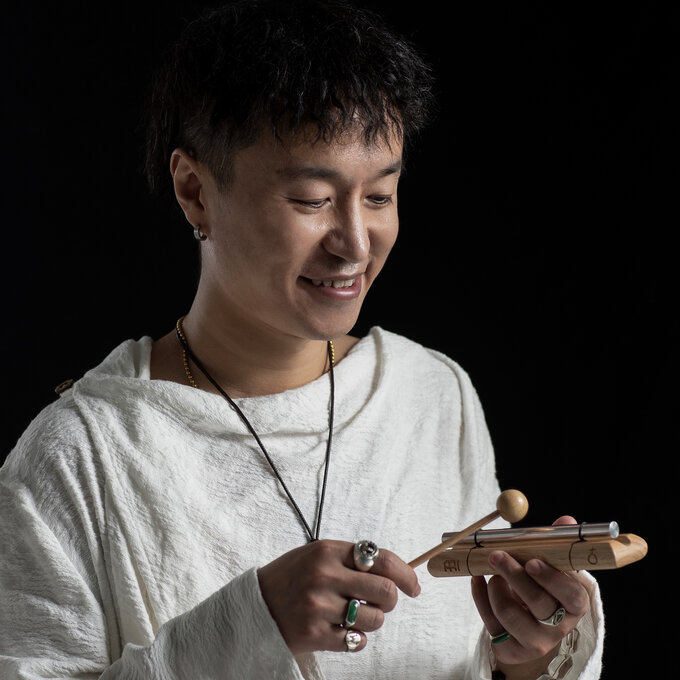 Combination of Tuning Forks and Chimes
I highly recommend that students use tuning forks and chimes of the same frequency together. In my sessions, I have found that combining these instruments with the same frequency creates an overlapping octave and creates a multi-dimensional energy experience that goes beyond just the auditory.